Archive for the 'News' Category
St. Patrick's Day is just around the corner.  Whether you're Irish, or "honorary Irish for the day" we can help you out with making your St. Patrick's Day party the top o' the parties.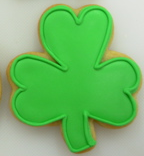 Looking for cupcakes or a cake?  Remember we do specialty cupcakes and 3-d cakes too!  Give us a call to set up an appointment today!
Whether you're rooting for a particular team, or looking for some fun football-themed treats for the big game, let ABC Bakery help you set a game-winning table.
We can do cookies, cupcakes, brownies or cake.  Want a football field cake, we can do that.  Want football helmet cupcakes of the Ravens or 49ers?  How, about football cookies?  We can do all of those.  Give us a call or contact us by e-mail today!
Valentine's Day is just around the corner.  Whether you're looking for something sweet for your sweet, a treat for the office party, some valentines for your child to share with his class, or something just for you, let ABC Bakery do the hard work while you take the credit for it.  We have heart-shaped cakes and cookies.  We have floral cakes and cookies.  We can even do a "box of chocolates" cake if you're so inclined.
Contact us today to place your Valentine's Day order.
That's right, 3-D!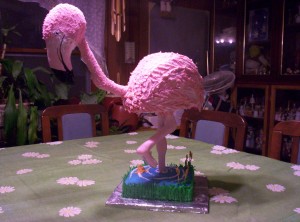 You've probably seen 3-D shaped and carved cakes on all of those fancy TV shows.  But, did you know that there's a local bakery that does them too?  If you can imagine it, we can probably make it come to "life."  Be sure to contact us for more information or to set up a consultation.
Looking for something new and exciting to take with you to your New Year's Eve party?  Give us a call!  Whether you're looking for a cake, cupcakes, pie, or cookies, we would love to provide you with a special treat to help you ring in the New Year.  The clock is ticking.  Give us a call today to have your order ready.
Get your orders in for pumpkin rolls, lemon rolls or pies by November 16th to ensure pick up or delivery by Thanksgiving. We offer most traditional fruit pies and cream pies. 9″ pies are $10.00 and 4 minis (5″) are $20.00. Very little time left, so get your order in today. 585-928-1819
With Thanksgiving quickly approaching, we all know how busy the holidays can be.  Let ABC Bakery bake your holiday pies, cookies, pumpkin rolls, or other seasonal delights, freeing you up to spend time with family and finish up some of the other tasks on your holiday to-do list.  There's nothing like "Grandma's" pie (apple, pumpkin or another flavor) for the holidays.  Orders can be made by calling  (585) 928-1129 or (585) 928-1819.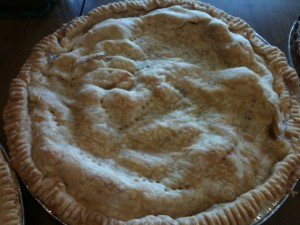 We have been working to update our website with photos!  Check out the "Cakes" "Cookies" and "Specialty/Seasonal Items" tabs under the "Baked Goods" header at the top of the page to see some of our recent photos.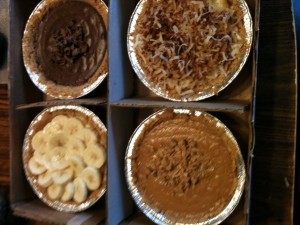 And, we can't forget that the holidays are quickly approaching.  Whether you're looking for a pie to take with you for Thanksgiving dinner, or cookies for your Christmas party, we would love to have the opportunity to provide you with quality, homemade baked goods.  Looking for something else?  We also provide a variety of specialty baked goods and ethnic European treats.  Don't see it listed on our website?  Give us a call or drop us an e-mail.  We can do a custom order to fit in your budget.
Okay, we are moving right along with update on the site. Let us know what you think, what you would like to see, questions, etc. We would love to hear from you. Thanks to everyone!! bk.kinn@gmail.com
We are now offering mini pie assortment packs!! Just in time for Thanksgiving, so get your orders in early.
Our basic pack contains: 1 Apple, 1 Cherry and 2 Pumpkin pies. Cost: $20.00 each pack.
All are 5" deep-dish pies with homemade crust. These assorted pies would be great for the individual, couple or small family, or even as a gift. They will allow different flavors for different people and no dried out, shriveling pie left over.
They would even work in a lunch box/bag or as a quick desert.
We also will have the "pudding pie" assortment, which contains: 1 Chocolate, 1 Banana Cream, 1 Butterscotch and 1 Coconut Cream. Cost: $16.00 each pack.
We will be offering these assorted pie packs throughout the year, but get yours now by calling or emailing us with your order.