Valentine's Day is just around the corner.  Whether you're looking for something sweet for your sweet, a treat for the office party, some valentines for your child to share with his class, or something just for you, let ABC Bakery do the hard work while you take the credit for it.  We have heart-shaped cakes and cookies.  We have floral cakes and cookies.  We can even do a "box of chocolates" cake if you're so inclined.
Contact us today to place your Valentine's Day order.
That's right, 3-D!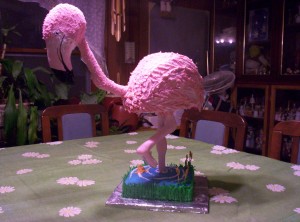 You've probably seen 3-D shaped and carved cakes on all of those fancy TV shows.  But, did you know that there's a local bakery that does them too?  If you can imagine it, we can probably make it come to "life."  Be sure to contact us for more information or to set up a consultation.